What's your story?
I am a Polish-Australian who was born in Warsaw, grew up in Australia, and ended up in Kraków. I am a writer, translator and proofreader, a dancer and a traveller. I am also a mother of two, a wife of one, who loves reading, dancing, meeting new people, and learning languages. I speak five, and am learning a sixth now, not because I need to, only because I want to.
What brought you to Kraków?
Literally? My husband. I come from Warsaw and that is where I dreamed of moving back to from Australia. Sounds crazy? I agree, but what can I say? That was what I wanted. I moved back to Warsaw in 1999, after 16 years in Australia, and in 2002 met my husband, who as a native Cracovian refused to move "to Warszawa!!!". I have been living in central Kraków since early spring 2003. Moving here meant looking for new work contacts and making new friends. It wasn't easy in the beginning.
What was the biggest challenge in adjusting to your new life here?
I would say the biggest challenge was making new friends and coping with living with small kids in the city centre, with tourists on my doorstep and no playgrounds nearby! Another challenge was learning to drive here after Australia, with left-hand driving and nearly no traffic, no trams and no snow!
What do you like most about living in Kraków?
I like that everything is so close and I can walk to many places! The people, especially officials, are friendlier than they were in Warsaw. I like it that Kraków is a pretty and popular city that people want to visit so we often host family and friends from abroad. I also like being close to the mountains! And closer than Warsaw to Prague and Vienna. Not that I have been to Prague since 2001 – it's on my to-do list!! And I really like the community at IWAK and running the two activity groups – Book Club and Dancehall classes.
How do you contribute to IWAK?
I love it that IWAK does charity work. That's something that has always been close to my heart, maybe because I was a poor immigrant from a communist country once upon a time, and many people reached out to us with kindness. I am always happy to help with the Gala and I was a co-organiser once, which was very exciting and satisfying.
This year I have joined the IWAK Steering Committee as Web Admin and part of the Newsletter Team. I look forward to contributing and co-working with our dynamic team!
I also run the Book Club, which is a really wonderful thing. I think that many of us find it hard in this era of technology to find time to sit down with a book! That was my key motivation for running the Club – no excuse not to do the reading! It's a friendly, laid back circle and we read titles we may never otherwise get the chance to because all members have different, interesting ideas. I have met some lovely women here and I encourage anyone to join!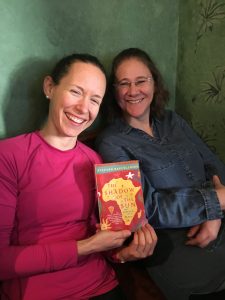 About eight years ago I started dancing as a pastime and have fallen totally in love with it. After many years of dancing Latino and Dancehall, I realised that Dancehall is my true passion. Last year I had the opportunity to open up a group here. We meet once a week. The dancing is high-impact and very good fun. The point is to enjoy ourselves while working up a sweat. We have a great group going and welcome anyone who wants to get fit while having a wonderful time and some laughs!